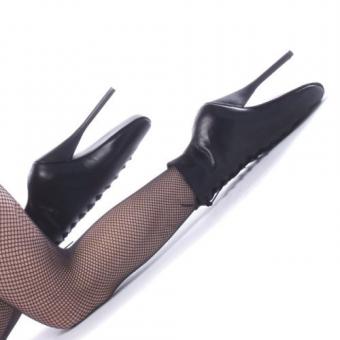 While dance purists might think that ballet boots are the footwear worn by men playing pirates in a ballet, those in the know admire ballet boots as fetish gear that are currently growing in popularity and availability. These boots are certainly not made for walking, but they do make an impact.
Look and Style of Ballet Boots
Ballet boots come in several different heights but have the same general look, which is that of a pointe shoe with a stiletto heel attached. Thus, the feet are held up on the toes, keeping the wearer in the fully extended posture of a ballerina. The heels are as long as possible, usually about seven inches, further forcing the wearer to be completely on her toes. The boots usually zip or buckle, making them comparatively easy to put on and remove, even though, unlike a ballerina, a wearer is almost completely immobile when wearing the boots.
History of Ballet Boots
The fascination with the sensual and romantic look of a woman's leg, foot and ankle that began with the development of en pointe ballet in the nineteenth century quickly translated into a fetish. The antecedent of today's ballet boots could be seen in Vienna around the turn of the century in shoes whose heels were longer than the toes, making walking and standing completely impossible, but also besides the point.
Wearing Ballet Boots
Professional ballerinas spend years developing the muscles in their calves and ankles so that they can dance en pointe, and even then, it is arduous and sometimes painful. The restrictiveness and unnatural shape of ballet boots renders them extremely painful after a few minutes of wear, especially for beginners. They are usually worn by submissives or masochists under controlled circumstances and, even when one is not standing, should not be worn long as severe cramping can ensue.
Buying Ballet Boots
Well-stocked fetish gear stores should have ballet boots, and since they are not for walking anyway, it doesn't matter as much as standard shoes if you try them on prior to purchase. They are also easy to find online and you can get a stronger sense of the variety of styles if you do some online research first.
Sites worth investigating before you select your boots include:
Punitive Shoes: Punitive Shoes carry several models of ballet boots. Their prices are listed in Euros, but they have a quick converter to US dollars. The boots are handmade in fine natural leathers and come in black, red or white. They have thigh-highs, ankle boots, knee-high boots and open-front buckle boots. All orders take about 45 days to ship.
Amazon: Amazon carries Spike Angel Devious ballet boots in a range of styles and the prices are moderate.
Pierre Silber: Pierre Silber carries a wide range of boots and shoes, including the saucy Mary Jane ballet shoe, and notes that, if you need to ask what they're for, they're not for you. The site also cautions, amusingly, that the shoes are not for walking or ballet. They offer ankle, knee and stretchy thigh-high boots.
Other sites that carry ballet boots are:
Online Instructions
The Internet is not just a source for buying fetish gear, it is a useful tool for connecting with people of like minds and learning how to safely and effectively use what you buy. There are several videos to be found of people wearing ballet boots and a few good discussion sites. One of the more popular sites is Ballet & Heels, which offers a large forum as well as a shop.