Fashion Stiletto Boots Gallery
Versatile Fashion Stiletto Boots
Fashion stiletto boots come in all colors, heights, and styles. And these days, there isn't much you can't wear them with. They are truly some of the most versatile shoes you'll ever own - as long as you make sure you're comfortable walking in the heel height you've chosen!
Classic or Trendy?
While embellished stiletto boots may run the risk of going out of style faster than a simpler pair, they're also a fabulous way to add a little flair to any look. And with the return of maximalism, they've never been more on trend. So how to find a pair that embraces an embellished look but will still be wearable season after season? Look for boots with little to no color and opt for metal hardware.
Girl Gone Grunge
Sophisticated style is laden with juxtaposition. With the return of the 90s, you have more opportunities to do this than ever. Go for a pair of tough-girl boots that will pair just as stylishly with your favorite skinnies as they will with a romantic, flowing dress.
Peeptoe Everything
It's almost as though peeptoe boots were invented for the transitional months - you can thank them for making thigh-high boots wearable in the middle of August! Give your sandals a break and rock your peeptoe stiletto boots with a leg-baring mini. When the weather starts to get colder, slip on a pair of cozy tights to keep wearing them straight into fall - and maybe even into winter. These may just end up being the hardest working boots in your wardrobe!
Color Color Color!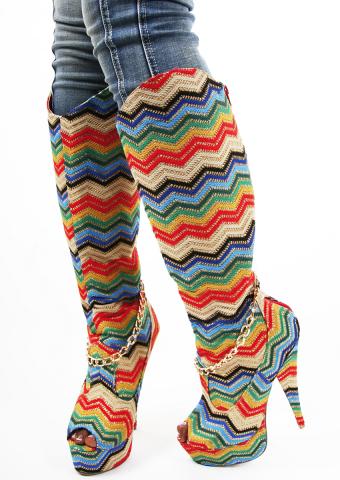 While black or neutrals tend to be the color of choice when it comes to boots, sometimes a little color is just what your closet needs. Add a little bit of fun to your everday basics with a multi-hued, chevron pair that will undoubtedly be a serious conversation starter.
Zippers or Laces?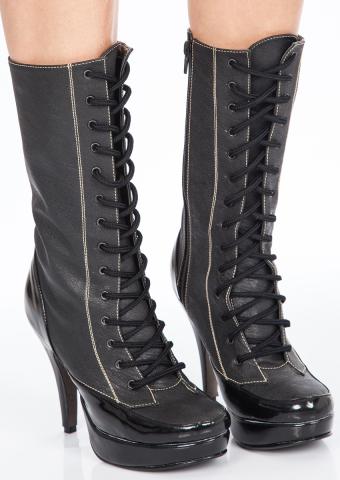 The struggle is real! If you love the look of laces but don't want to spend an hour putting on your shoes, look for lace-up stiletto boots that come with a side zip. That way, you'll get all the style with none of the struggle.
Moto Sleek
Moto-inspired details aren't just for leather jackets! Look for quilted, three dimensional elements and monochrome, textured details to amp up your style. Motorcycle not included.
Go the Extra Mile
Buckles never fully go out of style - and if you add just a few to an otherwise minimal pair of stiletto boots, you'll have a winning combination. Style tip: Pair these boots with all black to stretch and slim your silhouette. Hello, mile-long legs!
Wear Them With Everything
Gone are the days when antiquated fashion laws regulated what could and couldn't be paired with stiletto boots. From jeans to midi skirts to leather shorts, the options are limitless! No matter what shaft height you prefer, your perfect pair(s) of stiletto boots await!