School Shoes for Girls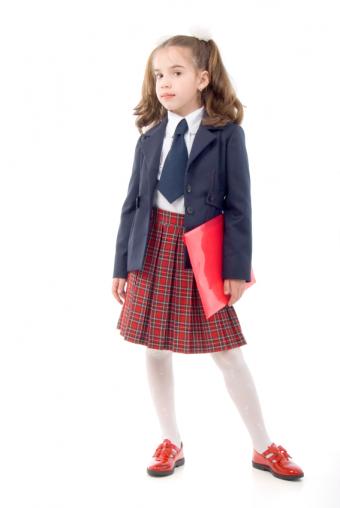 Shopping for girls' school shoes can be exciting and nerve-wracking all at the same time. Children can be quite vocal about what they want to wear, as any parent will tell you.
Besides what looks good and fits, many schools have some type of dress code, limiting the types of shoes kids can wear. Those sparkle jelly sandals may be cute, but they probably won't cut it at a lot of schools.
These girls' shoes should give you some ideas on what will more than likely work for your little one, whether she's a girly-girl or a fun-loving tomboy.
New Girls' School Shoes
When purchasing shoes for that first day of school or anytime during the school year, make sure to take your child shopping with you.
Kids' feet can grow surprisingly quickly and she may wear a bigger size within months.
Strapped Flats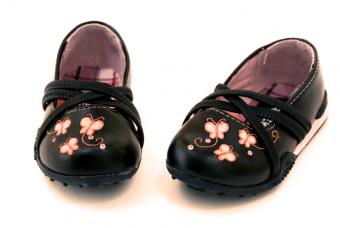 Shoes with flat heels are the way to go when looking for school shoes.
Straps help shoes stay securely on her feet, while pretty details like butterflies make perfect shoe details for girls who love being girls.
Great for Running
If she can wear sneakers to school, pink is always a favorite color for younger girls.
Look for Velcro closures that are easy to open and close, allowing even the youngest kids to put their shoes on and take them off with little trouble.
Mad for Plaid
Once girls get older and want more grown-up shoes, cute flats without straps are age-appropriate and school-friendly.
Look for pretty patterns, such as this shoe with various shades of pink, polka dots and floral details to keep her feeling pretty.
Fall and Winter Fashion Fun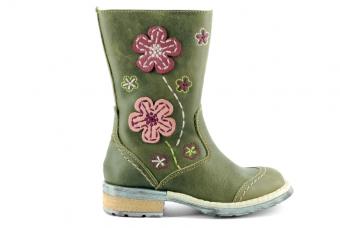 When the weather cools down, she may need boots to make that trek to school.
Boots don't have to be boring. Look for fun colors and floral accents in fubctional footwear. She can wear pretty but warm boots over a pair of long socks or tights.
Red Mary Janes
The Mary Jane style is a classic and perfect for schoolgirls. Instead of a neutral like brown or black, consider jazzy red shoes for a fun element to her shoe collection.
Look for durable stitching if you want shoes that will hold up to long and busy school days.
High-Top Style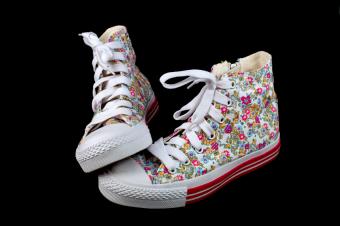 You'll find plenty of high-top sneaker styles, and some styles offer feminine appeal perfect for young girls.
Lots of color and tons of flowers should appeal to the girl who's active and sporty.
Full of Color
Butterflies, flowers and lots of color define these cute little sneakers.
As with many of the school shoes you'll find for girls, these feature an easy-on/easy-off strap. These type of shoes will pair well with jeans, skirts and dresses.
Cute as a Button
Want something more neutral? Brown Mary Janes will go with everything, but are far from boring. Look for details like the colorful buttons shown here to add just a touch of whimsy for girls heading to school.
Check out fall shoe trends if you want to see other popular fall styles.