Mary Jane Shoes with Heels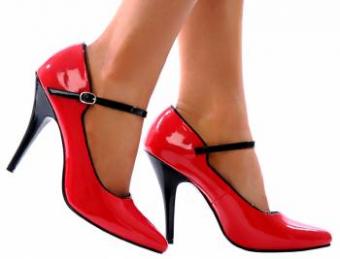 Mary Jane shoes with heels are sassy proof that no matter how old you are, you can still wear your favorite styles. They just have to grow up a little over time-right along with you.
About Mary Jane Shoes with Heels
Mary Janes have long been a schoolgirl classic. Unless your school dress code didn't allow for them, you probably had a pair growing up. They're similar to traditional flats, ballet shoes, and pumps. The kicker is that they have a strap that extends across the top of the foot and fastens, usually with a small metal buckle, on the outside of the foot. The heeled version for adults just elevates them a few (or even six!) inches.
How to Wear Them
You can wear Mary Jane shoes with heels just about anywhere. The styles are so varied, you can find something to go with everything from your favorite suit to your Marilyn Monroe-inspired A-line halter dress.
For business settings, stick to neutral colors (black, brown, navy, charcoal) and low heels (no more than two or two and a half inches), but if you absolutely must have a little something extra on your shoes, shoot for a pair that has two criss-crossed straps, for example, or a small embellishment near the buckle. You could try something like Heels.com's Betty Mary Jane in black for going to the office.
For a day out shopping, you can go for a chunkier heel to achieve more comfort while you're on your feet for hours at a time. No one wants to shop in four-inch stilettos, right? You can also try out some of the trendier patterns and colors, like the ​Johnston and Murphy from Zappos. These come in only three neutral colors, but they are available in suede and offer the promise of comfort with a slightly funky style.
If you're dressing up quite a bit and you want some very high heels to go with your outfit, you could try something like the Bordello Tempt. There's a 4.5-inch heel and they're available in white leather with gold accents. This is truly a Mary Jane that's all grown up.
Find All Styles
If the examples above whet your appetite for all types of Mary Jane shoes, here is a shopping guide where you can find more-all types, colors, heel heights, and details-to really fill out your shoe collection with such a versatile shoe design:
Zappos.com offers free shipping both ways and they have Mary Janes of all types. Choose from wedge shoes, glittery peep-toes, leopard print, and everything in between.
Heels.com has a work-safe collection as well as more fun styles. You can narrow your search easily by checking off your requirements in a bar that runs across the top of the page. Choose from styles like the ​Violett by Just Fab with rounded toe and charming, scalloped edging, or the more traditional Baily Pump in brown. One of the perks of this site is that it allows you to zoom in on the shoe so you can really inspect the detail.
Alternative-Footwear.co.uk probably shouldn't be your first stop for work-friendly heeled Mary Janes, but their selection does pack punch. Here you'll find six-inch heels on Mary Janes that stay strapped on thanks to two straps in a contrasting color. You'll also see metal heels, platforms, spiked heels with leg straps, and the slightly sweet and innocent black/pink pair with perforated detail.
A Final Word
You don't have to feel like you're playing dress-up in reverse by wearing little girl shoes when you slip into a pair of Mary Janes. There are an unbelievable number of grown-up styles of Mary Jane shoes with heels and they go with almost everything in your closet. Just consider the setting and analyze acceptable color choices, heel heights, and embellishments. There's almost nowhere your Mary Janes can't take you.