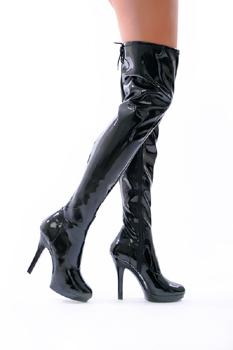 What's the Use of Sexy Boots?
So, you've got a hot date and want to make an impression on that guy you met through Match.com who's never seen your feet? After you've checked out his height to see what kind of heels you can get away with, it's time to shop! Sexy boots are a no-brainer; they're sure to please you and your date--and you don't have to take the time to get a pedicure before the weekend. Your feet will stay warm if you go to a notoriously chilly movie theatre and you can find a pair of boots to go with any outfit. Whether you're planning to go the feminine route and wear a skirt or plan to keep it a little more casual and relaxed with blue jeans, boots are the goddesses of the shoe world.
Rules for Sexy Boot Shopping
Try them on if at all possible! If you can't, at least go to a site like Zappos where you can read reviews and figure out which size to order. Sometimes, you may have to go up a size or so with different brands of boots.
If it's a first date and/or you're not sure you won't just be sitting around the whole night, make sure you shop for comfort as well as sexiness. There's nothing that'll kill your chances of getting asked out again like being a stick in the mud because your high-maintenance feet hurt like the dickens.
Don't go over the top. A mini skirt with those knee-high black boots with cutouts you saw in a catalog might just be a little scary. Go with a tastefully sexy boot, such as pink snakeskin or funky leopard print, covered mostly by a pair of tight-fitting jeans. If you want to wear a short skirt with your new boots, go with something understated. Try soft, calf-hugging leather with a short (two inches or less) stiletto heel.
If you have no experience walking in stilettos and you don't have enough time to practice doing it without falling over and bashing your skull on the coffee table, step away from that sexy boot. Find one with a chunkier heel. You'll feel more at ease and won't feel the urge to cling to your date's arm like you've had about three too many Midori Sours.
For the appearance of longer legs, wear a pointy-toe boot in a dark color with dark jeans that drape gracefully to the top of the heel. Pair that with a colorful top that livens up your face and makes you feel like the hottie you are. Voila! You're done.
As cute as hot pink boots are, you'll get more wear out of black or brown boots. If you have NO sexy boots, opt for a neutral tone first.
What Can Sexy Boots Do for You?
Sexy boots offer the confidence you need to make it through a first date--or even just a hot date with your spouse. They can give you a sense of sensuality and attractiveness a pair of flip-flops with the same outfit would never come close to. Try them on, read reviews, and keep in mind that you're making an investment in your self-image and your wardrobe. You might need to pay a little more for a pair of sexy boots than you would for a pair of random espadrilles at a discount store.