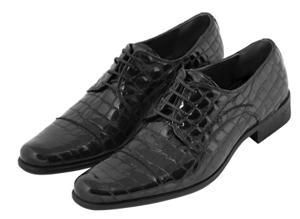 Such a great amount of emphasis is placed on women's shoes that sexy shoes for men are often overlooked. To be fair, the market for hot men's footwear is simply not as vast as it is for the ladies - nothing can quite compete with an eye-catching heel that elongates the leg! However, that doesn't mean there aren't stylish shoes for men available. Some are dapper, some are dashing and all are destined to find a place in any fashionable male's wardrobe!
What Makes Sexy Shoes for Men
It's not everyday a man requests a sexy shoe. Certainly the office, the mall and the park aren't exactly appropriate locations to sport such a shoe, anyway. But when the occasion calls for it, nothing speaks more impressively of a man than his ensemble and his shoes. After all, men don't have the good fortune women do of accessorizing their outfits in the same way. Sure, they can throw on a great tie, cufflinks and even jewelry if desired, but the outfit, in some cases, may lack an accent piece that really stands out.
That's where sexy shoes come in. They are out there - it's just a matter of weeding out the hot from the not-so-hot! Let's take a peek at the types of shoes that qualify as sexy.
Slip-ons
They may sound more like your elderly relative's favorite shoes, but slip-on shoe styles are more than just comfortable enough to wear around the house. The sexy slip-on may boast a two-tone color palette in unexpected colors - think tan and cream or black and ivory. The contrast in colors is what lends the shoe a more visible appearance. Look too for luscious materials in dark shades, like navy suede, which simply look smart.
Loafers
Loafers have come a long way over the years. While they once were limited quite strictly to dull office wear, today they are available in a variety of styles and colors. Again, the color is often what makes a sexy loafer stand out from the pack. A snazzy white loafer, for example, paired with a matching tuxedo is undeniably sexy. Keep an eye out for little details, like touches of diminutive hardware. They often mean the difference between boring and brilliant. Texture is also quite telling of a shoe's sex appeal. Woven leather lends even the most basic loafer a dynamic, cultured appearance, while touches of snakeskin are inarguably sexy (albeit a bit more costly!).
Earthy Shoes
No, we aren't talking about Birkenstocks, which are quite the opposite of sexy. But a sexy men's sandal may be constructed of sturdy leather in a rich shade, like chocolate brown or weathered tan. Look for styles that cover the toes; Kenneth Cole and Cole Haan have both mastered this style beautifully. It's not everyday one looks twice at an earthy, sporty sandal, but certain styles simply have that special something.
Boots
Boots may not seem the epitome of sexy, but truth be told, they can be if they exhibit certain qualities that allow them to stand out from the pack. Certain cowboy boot styles are particularly intriguing. For example, designer Mark Nason has essentially capitalized on the art of adding unique artwork to the sides of his Italian boots. Look for unusual cutouts and edgy embroidery (like dragons!), which make the shoes a bit more enticing than the traditional boot. When in doubt, opt for leather - occasionally the material will undergo a bit of change to its color over time, resulting in a beautiful patina finish that makes the boot even sexier than when it was first purchased!
Keep This in Mind
Don't hesitate to pay just a bit more for a high quality shoe made of any material, be it leather, suede or otherwise. Sexy shoes are sexiest when they're made to last. Cheap shoes may allow you some temporary enjoyment, but where's the fun in not being able to pull out your reliable sexy shoes when you need them? The aforementioned Nason boots, for example, can run upwards of $500 in some cases. Is it worth it? It can be, particularly if you're in the market for something that bridges the gap between ruggedness and sexiness. Dress boots are much the same. Pay for quality and expect to get a lot out of those sexy shoes for men!