Red Boots for Women
Cute boots for women can take many forms, from fun and funky rain boots to ultra sexy stiletto heel boots. Red is sexy, powerful, and incredibly versatile. The range of shades is also incredible, from a sweet candy apple red to a dark, sophisticated burgundy. There's a pair of red boots for every woman, for any occasion. Find out some of the hottest looks in cute red ladies' boots, then click on the 'Buy Now' or 'More Details' link for the ones you like for shopping information.
Adorable Ankle Boots
Buy Now"
One of the hottest trends in women's boots is ankle boots (also known as the shootie or ankle bootie). Wedge heels and a vintage look make a pair of shooties not just cute, but sophisticated and professional too. This style from Ollio (less than $30) boasts a faux suede leather and stylish laces for a trendy look.
Red Western Boots for Women
Buy Now"
Traditionally styled women's western boots get an added kick when they're red. The western style and bold red color pair perfectly with denim. Done in leather, the classic and stylish design is versatile as well as comfortable. Designed with a memory foam midsole and the J-Flex comfort system, this look from Justin Boots (just under $200) is as easy to wear as it is cute.
UGGs Beyond Tan
More Details"
Who says cold weather boots can't be cute and functional? Built to keep your feet toasty warm in frigid temperatures, with a non-slip sole, these UGGs mix fashion and practicality. Tan UGGs seem to get all the love, but these red ones, complete with cute sparkling accents, will shake things up. These short Uggs are available for about $180.
Red Rain Boots for Women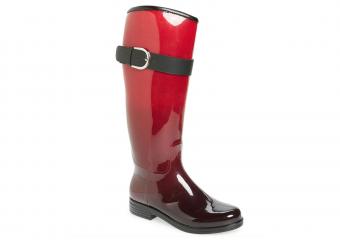 More Details"
Weathering rain and wet conditions in style isn't a problem with bold red boots. Durable soles, easy pull-on design, and added details like the buckle accent make these däv 'Bristol' Weatherproof Knee High Rain Boots (about $80) the perfect wet weather footwear. The creative ombre styling gives the boots a modern and classy look.
Fun and Funky Gogo Boots
Buy Now"
Go fun with these cute gogo boots. The knee-high boots feature a white stripe up the middle, making any outfit they're a part of instantly stand out. Available for under $50, these fun boots are an easy way to create a fun, bold focal point for your next girls' night out look.
Polka Dot Rain Boots
More Details"
One part whimsical and one part classic, these Chooka Classic Dot Mid Rain Boots (under $50) are on the shorter side than some other options out there. They're rubber with leather accent straps that allow you to adjust them to your calves, as well as non-skid soles. The inside's designed to keep you comfortable, not just cute. The inside has cotton lining to keep your feet dry, and there's a padded footbed.
Rich Burgundy Leather and Buttons
More Details"
The leather Miz Mooz Bloom boots (just under $200) have a rich, beautiful burgundy color, ruching, and decorative buttons up the side. Inside, faux fur and a cushioned footbed ensure warmth and comfort. Worried about getting them on and off with all those buttons? No worries; there's a zipper.
Bright Red and Slouchy
Buy Now"
If bright red is more your thing, these synthetic suede slouchy West Blvd Dhaka Knee High Boots (under $30) are what you need. They're casual and don't have a high heel, so they can take you anywhere. Pair them up with skinny jeans and a t-shirt or off-the-shoulder sweater. The buckles add visual interest without competing with the color.
Stiletto Ankle Boots Are Always Sexy
Buy Now"
When you're in need of an undeniably sexy, versatile boot, an option like the Top Moda George-15 Women's Strap Buckle Stiletto Heel Ankle Booties (under $35) makes a perfect choice. These offer a more understated sexiness than a taller option (knee-high, for example), so they're easier to work into your wardrobe and your life.
Red and Rhinestones
Buy Now"
Ready for something glam? The Dream Pairs Cecile Chic Detailed Rhinestone Stud Embellishment Platform High Heel Booties (an affordable find at about $35) fits the bill. Small rhinestones meet red for an eye-catching pair of ankle boots. Wear them day or night.
Everyday Red
Buy Now"
These leather Miz Mooz Olsen Boots (about $140) are the perfect choice for everyday wear. They're far from boring, thanks to decorative button detail that extends up one side. The heel is low enough to wear for hours at a time. Wear them with a peacoat, a long-sleeved tee and jeans, or a casual dress.
Classy Stiletto
Buy Now"
These faux leather Pulison(TM) boots (inexpensively priced at under $20) have a lot going on, but they still manage to be classy and sophisticated. The cuff at the top begs to be seen, so don't tuck it in. They have an old-fashioned feel, but they'll pair well with edgy, modern, and romantic clothes.
Choosing Your Style of Red Boots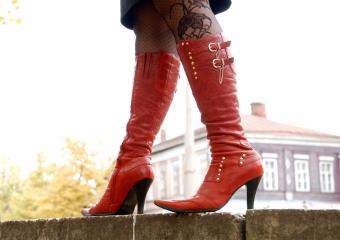 There are thousands of styles in cute red boots for women available. To choose your style, consider your personal sense of style and wardrobe, but don't be afraid to take risks. A pair of cute red boots can spice up any outfit, whether you're in jeans on a rainy day or a sexy dress for a night out.