Flip Through Pictures
Browsing through these pictures of how to wear flip flops can show just how varied this type of shoe can be. You can grab a pair of bright ones to give any outfit a fun, frivolous twist, or you can choose a neutral flip flop to keep your overall look understated and blend into the crowd. You may also want to go for an unexpected twist on the old classic design with wooden soles, jewels, buttons, and more. Pictures of flip flops can inspire you to create your own look.
Take It Easy
Flip flops are the shoes you throw on when it's time to take it easy. Wear them by the pool, on the beach, or when you're running out the door in raggedy blue jeans.
Pictures of Flip Flops Inspire
Don't forget, though, that you can find dressy flip flops with interesting detail, like jewels, wooden accents, and more. Pictures of flip flops may give you ideas for outfit pairings you would never have thought of.
Design Your Own
Once you get your inspiration from pictures of flip flops, why not take a trip to the craft store? You can buy a pair of "blank slate" flip flops and some additions to attach yourself. Custom design your own shoes.
Take Them to the Gym
For something less glamorous than adding excitement to an otherwise drab outfit or flaunting your love for your favorite football team, don't forget that flip flops make excellent shower shoes. Take them to the gym!
When Color Is a Flop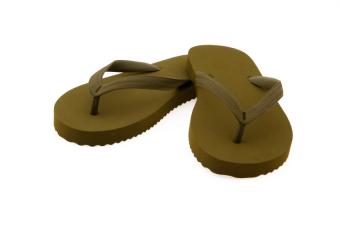 If you don't want to use colorful flip flops with busy designs to expand your shoe wardrobe and add a bright pop of color to an outfit, you can always choose a solid neutral tone like olive, navy blue, brown, or black to take you almost anywhere, anytime.
How to Wear Flip Flops in Style
Flip flops don't have to be boring. They don't even have to be exceptionally casual. A hint of metallic material or a large jewel placed right on top can take them from messy to dressy.
The "It" Summer Shoe
How to wear flip flops can be anything from ultra casual to dressed up and ultra fanciful. Since flip flops come in so many colors, designs, and styles as well as materials, there's something out there for everyone. Flip flops are the shoes of spring and summer, whether you're celebrating with lazy summer days or attending barbecues in a cute sundress.