Thigh High Black Leather Boots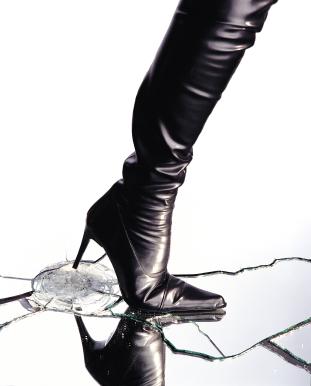 Thigh high black leather boots are cool, sexy, and interesting. Are you into thigh highs and looking for a new style of boot to wear? Thigh high leather boots in inky black match perfectly with classic mini dresses and short skirts, but if you like classic fashions instead, you can try wearing a pair of skinny jeans with your thigh high boots-and even pair them with a chunky turtleneck sweater or suede jacket if you're feeling daring. Be sure to try on a few pairs before you commit to your thigh high black leather boots, because you'll find tons of outfits to match with your footwear selection.
Thigh High Boot Styles and Tips
Not all thigh high boots were made the same. Here are just a few of the most popular styles that you can slip into-and adore! Not only will you be able to find thigh high, or over-the-knee boots, in different styles, but you might pick up a pair in another material besides leather as well-like tapestry, suede, tweed, and patent leather.
Look for over-the-knee boots with cutouts behind the knees, which will allow for ease of movement. These are best accomplished in a flat style and a casual fabric in darker, muted shades like deep brown, tan, and olive green.
Kitten heeled thigh-high boots are easy to slip on when you're feeling like you need a more casual style to match with jeans, blazers, and casual dresses.
Flat over-the-knee boots are a simple way to reduce the overt sex appeal, and this shoe style is easier on the foot as well. If you have weak ankles or feet that swell, you might enjoy this boot style instead.
To save money, you can purchase a pair of over-the-knee boots in leather with a fold-down panel. You can choose to wear your thigh-highs folded down to the knees for a pirate-esque vibe, or you can pull them up for more feminine appeal.
Comfort Tips for Thigh High Black Leather Boots
Over-the-knee boots can be great for style and even a little shock value, but you've got to be ready to wear a pair of boots that might not be the most comfortable pair you've slipped on. There's a lot more room for seams and stitching to stand out, but they also can irritate sensitive skin.
Stiletto thigh-high boots are super sexy. If you want to avoid any chafing or irritation, toss on a pair of high socks, thigh highs, or hosiery to protect your legs. You can also try applying shimmer lotion or another rich moisture cream to your upper legs.
Don't forget to add arch support and ball of foot cushions as necessary.
Try to rest your legs from time to time to help circulation issues that can arise. Put your feet up and get massages to improve your circulation.
Boots with elastic detailing can improve fit and reduce discomfort significantly, but when you try your over-the-knee boots, make sure that they don't bind your legs.
Shop for Over-the-Knee Boots
Looking for your own thigh-high boots? Check out these different locations.