Top Comfort Shoe Brands
The top comfort shoe brands offer the ideal cushioning and support for your foot. The best brands, however, don't just stop with making the most comfortable footwear; they go further to offer fashionable styles and a range of looks to meet your real-life needs, whether it's a comfortable dress shoe for work or a weekend-worthy flat.
Naot
Buy Now"
Naot strives to offer healthy and stylish footwear with ultra-comfort insoles. Men's, women's and children's shoes are available.
The Naot Wedge offers sassy, feminine flair and is designed to feel luxuriously soft. Naot offers shoes for men, women, and children.
Sofft Shoes
Buy Now"
Sofft shoes have been in existence since 1927, with the mission of offering comfort and style in women's footwear. Today, the brand's focus is on "Fashion Comfort;" they are creating shoes that offer stylish details without sacrificing their original focus on cushiony, comfortable shoes.
Shown here, the Malabar pump is pretty but professional, an ideal show for work.
Birkenstock
Buy Now"
The Birkenstock brand is synonymous with the easy, comfortable vibe of their beloved basic sandal. Today, the company offers much more with updated styles, unique details, and additional types of shoes. They do, however, remain one of the brands that feel the best on women's, men's and children's feet.
The classic sandal by Birkenstock shown here is perfect for weekend wear.
Earth Footwear
Buy Now"
Earth Footwear offers a unique 3.7 degree incline on all their shoes. This technology creates a healthy alignment, and comfort for the feet and body. A patented form-fitting footbed and reinforced arch supports are other features of the brand's shoes. The brand offers a range of both men's and women's styles.
The glossy Bellwether flat can be dressed up or down, making it a shoe that is versatile as well as comfortable.
Rockport
Buy Now"
Classic and stylish, Rockport offers streamlined and comfortable footwear for men and women. With their large variety of work-appropriate styles, they are a favorite in comfort footwear among men.
Shown: The Rockport Men's Ridgefield Eureka Walking Shoe offers a contemporary take in a comfortable walking shoe.
Aerosoles
Buy Now"
Aerosoles is one of the leading comfort shoe brands in the nation, and they are priced right, too. With styles in virtually every type of shoe from wedges to mules to boots, a plethora of colors, and many different designs, it's not wonder women turn to Aerosoles time and time again.
The basic Aerosole pant boot shown here is a comfy staple for any woman's closet.
Dansko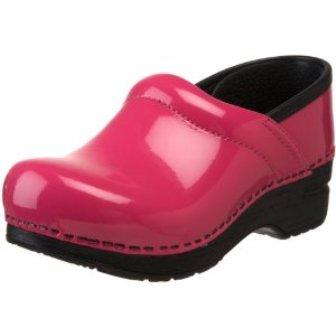 Buy Now"
Best known for their comfy clogs, Dansko footwear also offers other styles for women and men. Their newest addition is a children's footwear line. The brand's clogs and shoes have a number of comfort and safety features, such as athletic quality chock absorption, specially formed heel cavity, and some styles feature slip-resistant soles.
The Dansko clog for kids shown here is sure to be a favorite with its wearable feel and bright color.
Cole Haan
Buy Now"
Beautiful fashion combined with Nike Air technology is the genius behind Cole Haan Air footwear. From classic pumps to sexy party shoes, there is a comfortable shoe for every occasion. Men's footwear is also available in casual and dressy styles.
The Cole Haan Wedge shown is just one choice from the company for everyday footwear.
Born Shoes
Buy Now"
Casually sophisticated, Born shoes are handmade with the finest leathers and designed for flattering and easy-to-wear style. This brand offers a range of sandals, boots, and casual shoes for men and women.
Shown: The Born Women's Oxford has a chic vibe that adds classy, casual flair.
Stuart Weitzman
Buy Now"
Stuart Weitzman shoes offer more than just incredible fashion; this sophisticated footwear brand is known for being one of the more comfortable designer footwear brands. The company offers heels, pumps, flats, wedges, and special occasion and bridal shoes.
Whether you are looking for a casual everyday shoe, dress or professional shoes, or the perfect pair of evening shoes, comfort is key. These top comfort shoe brands show that it is possible to have cute and comfy footwear.