Vegan Footwear: Olsenhaus Interview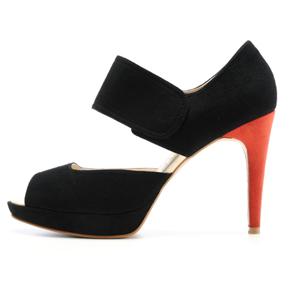 Respect for all beings is the basic philosophy of footwear company Olsenhaus. The revolutionary line was founded by vegan designer Elizabeth Ann Olsen, whose beliefs led to the creation of the functional, chic and, most importantly, animal- and cruelty-free shoe collection. Contrary to common belief, vegan fashion does not have to be uninspired or boring - quite the opposite, in fact, as Olsen proves with her dynamic designs. From edgy suede and faux patent leather booties to sexy platforms with gleaming hologram squares, the line is chock-full of fashion-forward pieces that prove just how stylish vegan can be. We spoke with Olsen to learn more about the company, its products and what the future holds.
Behind the Scenes
LoveToKnow: Thank you for taking the time to answer a few questions! Please tell us a bit about Olsenhaus.
Elizabeth Olsen: We are a 100 percent cruelty-free, vegan footwear company, and use only non-animal materials that are environmentally friendly. The styles focus on clean lines, unexpected material mixes and color. Comfort is also important, with heels that are a little lower, added platforms and padded insoles. The result is a line that is modern and fashion-forward.
LTK: What types of materials do you use in your designs?
EO: All of the materials are alternative, sustainable and renewable, plant-based, man-made and non-animal, such as cork, organic cotton, canvas, nylon, velvet, ultra suede and linen. We also use a synthetic eco-lining inside the shoes. No fur, wool, silk or leather is ever used, and the soles are composed of rubber, with vegan, rubber-based glue and non-toxic, vegan paint.
LTK: What is the benefit of using materials like these?
EO: Not only are they breathable, flexible and biodegradable, they also account for much less pollution and use less energy in comparison to leather.
LTK: Your focus on general consciousness extends beyond the realm of your own practices. Tell us more about that.
EO: Yes. Olsenhaus works exclusively with factories and people with high standards of accountability, quality and reliability. We personally check the factories for fair trade practices, fair wages, ventilation, proper facilities, comfortable working conditions, safety and more. We do not support child-labor practices, and do not outsource to any other factories or countries.
We also support the work of a number of organizations that focus on public awareness of animal rights and the environment, including Farm Sanctuary, PETA, the Humane Society and Greenpeace.
The Shoes
LTK: How do you come up with such eclectic, fun designs?
EO: I experiment with colors and textures to create a signature look, one that is trendy but also classic and wearable for more than just one season. It's a blend of sexy, cool, hip and fashion-forward, with attention to impeccable craftsmanship. Each season, there are approximately 30 new styles, ranging from sandals and wedges to pumps and boots.
The Future
LTK: Finally, what does the future hold for Olsenhaus?
EO: The plan is to develop into an international lifestyle brand for women, men and children, with a focus on footwear, handbags and belts. Eventually we will extend into clothing and health and beauty. We also aim to launch a limited edition signature line, a vegan, healthy fast food chain and a vegan department store.
View the Olsenhaus seasonal collections online.