Flip Flops Are Essential
Flip flops are an essential part of a man's wardrobe. Need something to slip on while you run out to check the mail? Something to keep your feet as cool as possible in the summer on casual days? Flip flops are the answer. Not all flip flops are flimsy beachwear. In fact, some could almost be called luxurious. Click on any of the following images to get shopping info on the styles you like.
No Toe Irritation
More Details"
If you steer clear of flip flops most of the time because you can't stand the strap between your toes, a style like the Nike Kawa is the solution. You get all the benefits of flip flops without any irritation between your toes. Go ahead and enjoy the comfort, coolness, and freedom to move your toes. These are best worn with the most casual of outfits. They're around $30.00 and available in sizes 8 through 14.
Camo Style
More Details"
You probably wouldn't want to go hunting in these camo flip flops from Realtree, but you can keep a little bit of that outdoor spirit in your daily attire with them. Wear them with shorts or jeans on casual days for a subtle way of broadcasting just how much you love hunting and fishing. Get them for around $30.00 in sizes 8 through 13.
Cushioned Comfort
More Details"
Flip-flops aren't always the most comfortable option if you have a lot of walking to do. Luckily, some styles (like the Dockers Waldport) have EVA cushioning and other features to make them feel good on longer treks or days you dressed for comfort but didn't foresee the amount of walking you'd be doing when you left home. This pair comes in navy, in sizes 8 through 13, for under $40.00.
Arch Support and Wide Straps
Buy Now"
This Dilken style (under $20.00) goes above and beyond what the average flip flop provides. These have extra-wide straps and arch support, plus they have non-slip outsoles and EVA cushioning. They're considered indoor-outdoor shoes, made for wearing by the pool, at the beach, or around the house. Get them in yellow, black, or brown. They're available in sizes 7 through 12.
Comfortable Mush Style
Buy Now"
The Teva Mush II style conforms to the shape of your foot as you wear it and features a canvas strap. It comes in two neutral shades, Dune and Drizzle, for under $40.00. These generally have that classic flip flop appeal but the design keeps them more comfortable than your average pair of drugstore flip flops. They're available in sizes 7 through 15.
The Unexpected
More Details"
Think UGGS are just boots? These flip flops prove otherwise and they're a wonderful, comfortable summer option that features a Nubuck upper and rubber sole for around $70.00. Get them in sizes 7 through 13, in black or brown. They'll go with almost any of your summer casual wear and they're perfect for days when flip flops are still appropriate but you need a step up from the sporty and basic beach styles.
Beachy but Not Basic
The Billabong Tides come in Black, Navy, and Sunset, in sizes 8 through 13. They'll only set you back about $15.00 and offer that beachy design with extra features for comfort. For example, you'll get durability from the straps, an anatomically correct footbed, and a rubber outsole. They'll still look great with your beachwear, but they're anything but your basic flip flop.
Star Wars Style
More Details"
If you're a fan of Star Wars, you're going to need these cushioned Havaianas on your feet as soon as possible. They come in a white/blue combination (shown here) or black, in sizes 8 through 13, and cost just under $30.00. Wear them with jeans or shorts and your favorite t-shirt.
Recliners for Your Feet
More Details"
The Volcom Recliner Sandals (less than $50.00) are obviously different from most other styles at first glance. That bumpy, quilted footbed is designed for comfort, with EVA cushioning. The ultra suede straps are designed to be especially durable. Get these in sizes 6 through 15, in seven color options. These won't go well with the preppiest casual clothing in your wardrobe, but they will pair well with t-shirts, shorts, joggers, and jeans.
Lightweight and Comfortable
Buy Now"
The Sanuk Men's Beer Cozy Light Flip Flop (around $50.00 or less) comes in five colors that will go with just about anything casual. They'll work with shorts, jeans, or even some casual khakis or chinos. This laid-back style is available in sizes 7 through 14 and features jersey-lined straps, a yoga mat footbed, and rubber outsoles, so they should feel comfortable on your feet.
Luxury Flip Flops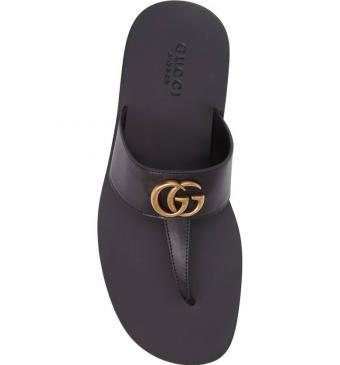 More Details"
Flip flops have a reputation for being borderline disposable. Buy a pair for the beach, wear them out in a summer, and toss them. However, these Gucci Francis Marmont Flip Flops (just under $650.00) prove that assumption wrong with their gorgeous leather upper and lining and brass detail. They're available in black/gold, in whole sizes from 7 to 13.
Flip flops can definitely look at home in places other than the beach or by the pool. With so many styles on the market, you can find something to go with any casual outfit you own.