Types of Casual Shoes for Men
When you first think about casual shoes for men, a pair of well-worn brown loafers or sneakers may come to mind. However, there are so many different types, it's worth taking your time to check out the options. There are boat shoes, boots, slip-ons, thongs, oxfords, and more. Click on the 'More Details or 'Buy Now' links at the top of any of the following styles for shopping information.
The Sperry Original Boat Shoe
More Details"
The Sperry Top-Sider boat shoe (just under $100.00) makes a wonderful casual choice with its moccasin style and hand-sewn leather upper. There are six color options available, so there's something for any man's wardrobe. Get them in size six through 15. Pair them up with jeans and a t-shirt or polo.
Boots That Go Anywhere
More Details"
Looking for a boot that will go with pretty much anything? The Bed Stu Burst style, available in black or brown distressed leather for around $150.00, could fit the bill. They're rugged, distressed, and ready to be worn with jeans, khakis, or cargo pants along with a t-shirt or sweater, depending on what the weather calls for. The zipper closure will make it easier to get them on and off and their versatility could make them a go-to several times per week.
Converse Classic Comfort
Buy Now"
Who can say no to a classic like the Converse Chuck Taylor All Star? These range in price from about $25.00 to $200.00, depending on color and style (and there are several!). It's important to note that these are unisex, so you'll want to make sure you're choosing the men's size or equivalent in women's sizing when you order. These can go with just about any kind of casual outfit you throw at them, but they're especially nice with the most laid-back of all: jeans and a tee.
Casual Chukkas
More Details"
This lace-up and boot hybrid is sure to be a staple in any guy's wardrobe who likes to add a little something extra to dress up even his casual looks. This Tommy Hilfiger chukka is available in three colors for just under $100.00. It pairs nicely with a pair of fitted jeans (nothing too baggy!) and a button-up. The upper is Nubuck leather and the back has a pull-tab to help you get them on your feet.
Skate Shoe Style
More Details"
Vans are a well-known brand in the casual shoes arena. These Atwood Deluxe Ultra Cush Skate Shoes are under $60.00 and available in four colors, in sizes 6.5 to 13. Of course, these beg to be worn with shorts, jeans, or khakis (loose or skinny fit). Pair them up with a loose t-shirt for a casual, cool vibe.
The Everyday Shoe
More Details"
Looking for a pair of shoes you'll know you can count on for just about any casual occasion, and not looking to part with a whole lot of money in the process? Check out the St. John's Bay Bryce Men's Lace-Up Shoes, which are available for around $50.00. You can get them in sizes seven through 13, in navy, black, brown, tan, and light navy, so there's something to complement almost anything. Try them with khakis and a short-sleeved button-up.
Casual Slip-On Style
More Details"
Love the ease of just slipping your feet into your shoes without much of a fuss? The Clark's Men's Cotrell Step Bike Toe Slip On is available in brown or black leather, in sizes seven through 13W. Wear these out with any casual pants of your choice, a t-shirt or short-sleeved button-up, and get your errands and casual socializing done in style.
The Classic Boat Shoe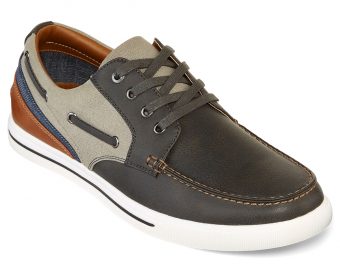 More Details"
For boat shoes with a sporty edge, there's the JF J. Ferrar Somerset Men's Boat Shoe, available for around $80.00. While some boat shoes have a look that suggests they may be more suitable for lounging than getting things done, these give the impression that they're ready to help you get things done around town (and thanks to the 100 percent rubber outer sole, you're less likely to slip while doing it). They're available in navy gray, cognac, and black, in sizes seven to 13.
Summertime Footwear
More Details"
Nothing says summer (and casual footwear) better than a pair of thong sandals or flip-flops. Break out your shorts and slip your feet into these to stay cool and feel free during the hotter months of the year. These Men's Ultra Celso Thong Sandals from Nike come in black/white/black, cool grey/white, and midnight navy/white. Get them for about $25.
Luxury Meets Casual
Buy Now"
Find luxury in a casual shoe with a pair of driving loafers. Slip into a pair of British Tan or Black Leather Clark's Reazor Edge Driving Style Loafers (under $150.00) and enjoy having a go-to shoe to slide onto your feet as you rush out the door for a last-minute errand. These are moccasin-style and have a flexible, comfortable fit. The upper is leather and the sole is rubber; they're designed to last. One of the best parts? You don't even need to bother with socks.
Must-Have Oxfords
More Details"
If your definition of casual doesn't always mean sneakers and you need something a little more serious, there's the Johnston & Murphy Men's McGuffey Plain-Toe Oxfords (under $100.00). Get these in size eight through 13, in brown, gray, or navy. Some men will even be able to get away with wearing these to work, but if not, they're perfect for the weekend. They're designed for comfort and durability.
Unexpected Sneaker Style
More Details"
If your definition of casual does, in fact, usually mean sneakers but you want something unexpected, there's the Cycleur de Luxe Preston (around $150.00). This is a leather sneaker with reptile-embossed detail and a style that revolves around comfort with a splash of luxury. It's available in Dark Cognac, Cognac/Black, and Dark Navy/Anthracite in sizes 7.5 to 13. While you might not want to pair these up with gym clothes, they'll match just about any other type of casual outfit in your closet.
Men's casual shoes vary from season to season but you should always look for comfort and durability and think about the purpose you want the shoes to serve (work, lounging, general weekend activities, going on dates, etc). The range of styles and colors available mean there's no limit to the casual yet stylish looks you can achieve.