Most Comfortable Steel Toed Shoes
You're on your feet all day and need the comfort, safety, and durability that comes from a solid pair of work shoes. These shoes are top rated by real guys and gals who perform hazardous or heavy work every day and need a pair of steel toe safety shoes that won't let them down.
Comfortable Steel Toe Work Shoes for Men
Many men choose shoes rather than boots for the sake of all-day lightweight comfort. These low-cut steel toe work shoes are all ASTM safety-rated; however, you can expect them to be somewhat lighter-duty than most work boots. Here are some top consumer-rated steel toe work shoes for men:
KEEN Low Steel Toe Shoe
KEENs are famous for comfort, and people say they wear the KEEN Utility Flint Low Steel Toe Work Shoe, a rugged hiking-style shoe, for all outdoor activities, not just on the job. The cushioned footbed feels great right out of the box, and all-day comfort is enhanced by the well-designed arch support and a natural fit with a generous toe box. They're lightweight, flexible, torsionally stable, durable, and the ASTM-rated steel toe provides safety.
According to reviews, the shoes have longevity, long-workweek comfort (one review reported how comfortable the shoes were after a 70+ hour workweek!), traction on uneven ground, and KEEN's famous comfortable fit. The thumbs down from customers? These shoes are water-resistant but not waterproof; therefore not ideal for wet/muddy conditions. Priced around $75, these shoes come in a gray shade as well as a gray and orange color. The sizes range from 7-15.
Caterpillar Men's Steel Toe Convex Lo
The Caterpillar name is synonymous with hard work and durability. CAT earth-moving equipment is heavy-duty and so are these Caterpillar Men's Steel Toe Convex Lo Work Shoes that combine looks, performance, comfort, and protection. Slip-resistant soles keep you firmly planted wherever you're standing, the steel toe exceeds ASTM ratings, you get electrical hazard protection, and the rubber/mesh/full-grain leather uppers offer exceptional breathability and durability.
Nylex sock liners, padded ankle pods, and EASE midsoles add to comfort. They are priced around $130 and come in sizes ranging from 8-13. Reviewers report that these shoes are high quality, comfortable, durable, and suitable for all-day wear. The thumbs down from wearers: they need a break-in period and tend to be somewhat stiff when new.
Timberland PRO Lace-Up
When you think "rugged," Timberland is at the top of the list - but now you can add Timberland to the list of comfortable steel toe work shoes. The Timberland PRO 40008 Mudsill Steel-Toe Lace-Up shoes are an athletic-inspired design, built with the same features as the classic Timberland work boots. At around $100, they're an exceptional value.
You get ASTM-rated safety features, including electrical hazard protection, superior traction and abrasion-resistant toes for durability, and Timberland's PRO 24/7 Comfort Suspension System that ensures stability, arch support, and comfort on and off the job. Nearly 60 percent of Amazon customers rated this lightweight leather shoe at five stars, and over 20 percent gave it four stars. Reviewers appreciate the shoe's durability, comfort, and light weight, and the shoes come in a wide size range: 7-15. The con is that a few reviewers reported needing a break-in period.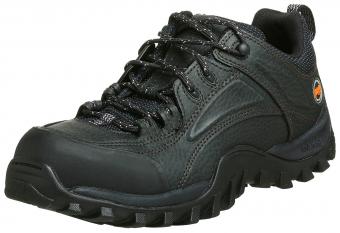 Women's Steel Toe Work Shoe Options
Historically it's been a challenge for women to find good work shoes made for women. High quality, durable, and functional work shoes used to be made for men, and women had to deal with trying to fit into men's shoes or settle for lower-quality women's shoes. Finally, manufacturers are getting the message. Today, women can find steel toe shoes that are comfortable, lightweight, stylish, and rugged enough for tough work environments.
KEEN Women's Low Steel Toe Shoe
Just like the guys' version, the Women's Utility Flint is durable, comfortable, and could become your do-anything outdoor go-to shoe. KEENs are famous for comfort. They feel great right out of the box and keep your feet happy all day with a wider toe box and great arch support. Like the men's shoes, they are torsionally stable, making them great on rugged terrain, and they are also breathable, slip-resistant, and offer ASTM-rated steel toe protection.
These shoes retail for under $100 and come in three colors, including gray/blue, black/red, and a yellow/coral/gray shade. Sizes range from 5-11. Wearers (according to Amazon reviews) say these shoes offer true all-day comfort even when new. According to reviewer The Boot Guy, traits like the flexible sole and support make these shoes stand out. The biggest con? Similar to the men's version, these shoes are water-resistant but not waterproof; therefore they're not the best choice for wet or muddy conditions.
Caterpillar Women's Connexion
This brand makes rugged work boots and shoes based on the company's reputation for hard work, quality, and integrity, and the feminine yet rugged Caterpillar Women's Connexion Steel Toe Work Shoe don't disappoint. These athletic-inspired steel toe work shoes will keep your feet happy all day, look great, and at around $105 they're a great value.
Lightweight ERGOlite technology gives you shock absorbency, and flexibility for long-workweek comfort, ASTM-rated safety features including a steel toe and electrical hazard protection keep your feet safe, and the grippy soles provide great traction on uneven or slick ground. According to reviews of the shoes, wearers appreciate the shoes' look, comfort, and fit. The thumbs down? They are not waterproof. These shoes come in five colors including gray, blue, green, vivid blue, and pink/grey. Sizes range from 5-11.
Dr. Martens Gunby Steel Toe Shoe
Made for the toughest job sites, the sleek black leather Dr. Martens Gunby Steel Toe oxford shoes don't mess around. At about $135 they're not cheap, but they are built to stand up to rugged conditions. Dr. Martens seems to have come up with the perfect combination of durability, style, and comfort. ASTM-approved steel toes and electrical hazard protection combined with water-resistant uppers (that can be fully waterproofed) and soft, padded footbeds provide the cushioning you need when the hours add up.
About 70 percent of Amazon reviewers gave these shoes a five-star rating, and 15 percent gave them four stars. Wearers raved about the Gunby's all-day comfort and durability. The negative end? These shoes require a break-in period, and they are heavy.
Compare Features
The shoes reviewed here are highly rated, but there is no one shoe that is perfect for every situation. When selecting a safety shoe, consider your work environment, and look for the shoe that meets most of your must-haves.
Comfort: Fit matters and it's the number one reason to buy or reject a shoe! Look for arch support, cushioned footbed, roomy toe box, breathability, heel support, and the option of a removable footbed if you use custom orthotics. Almost universally, the shoes reviewed here ran large and most consumers opted to go down a half size. KEEN shoes also tend to run wide (especially the men's). A sloppy, wide fit will lead to foot pain and possibly injury so make sure you get a snug yet comfortably fitting shoe with good arch support for all-day comfort.
Material and build: Consider your needs for water resistance, breathability, weight, durability, abrasion resistance (especially scuff guards on the toes), break-in period, and insulation. Even all-leather shoes can be considered breathable if they have a breathable liner that promotes airflow between the foot and the shoe. With proper care, leather shoes can outlast mesh and can become more comfortable over time.
Safety: Every job site is different so evaluate your needs for electrical hazard protection, puncture resistance, grippy tread for uneven ground, water resistance, torsional stability, slip-proof soles (especially on oil-slick ground), non-marking soles, and steel toe protection.
Buying Online
"Wear before you buy" is the best way to determine whether a shoe will work for you since you're buying a stock product for unique feet. A shoe's features may be exactly what you're looking for, but don't go by features alone. Fit is number one - so you don't end up with shoes that look great on paper but feel terrible on your feet.
Use online retailers such as Amazon or Zappos, who offer easy and free return/exchange policies that give you the flexibility to get exactly the right pair of work shoes for your feet and work environment.
Get the Right Shoes
The right shoes offer pure comfort and functionality. While all of these steel toe work shoes take care of safety, look for the shoe that makes your feet happy. You want that delicious "ahhhhh" feeling of slipping on a comfortable pair of shoes that won't make your feet ache after a long day at work.
Any of these steel toe work shoes are solid value, based on actual customer reviews. Depending on how hard your work environment is on shoes, you can expect the right shoe to last six months to a year. While it may seem hard to justify purchasing a new pair of work shoes that often, remember that ultimately, all-day comfort is priceless.