Steel toed tennis shoes have a hidden steel reinforcement in the toe area to help protect you from heavy falling or rolling objects. A steel toe is often a popular option in work boots, but tennis shoes are also a great choice for men and women who want that added bit of protection without the bulkiness of a boot.
Women's Stylish Steel Toed Sneakers
You don't have to compromise looks for safety with these steel toed safety sneakers:
Puma's Fuse Motion Sneakers
Puma's Fuse Motion Sneakers come with all the bells and whistles. This trendy black and aqua sneaker looks like an expensive running shoe, but it's so much more than that. Retailing for roughly $100, this steel toed sneaker protects you from brief contact with surfaces up to 572 degrees with its heat resistant outsole; it's also well cushioned and ventilated for your comfort. This is a slip and static resistant shoe specifically designed with a women's smaller foot frame in mind.
Sketchers Biscoe Work Shoe
The Biscoe St Work Tennis Shoe by Sketchers is another example of a cute and sensible steel toed tennis shoe. Retailing for only about $65, this sneaker is worth it. It passes numerous tests for protection against slippery spills, shock, and electrical hazards; and it keeps you comfy doing so with its memory foam cushioned insole. The Biscoe also has a 1.5-inch heel built in, but you wouldn't know it by its contemporary leather and mesh design. This tennis shoe is mainly black, with subtle hints of pink and gray colors, making it look quite chic.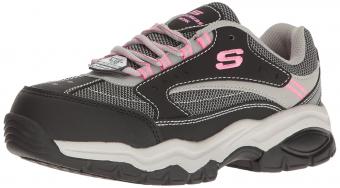 Nautilus ESD Athletic Shoe
Nautilus is a well-known name in the construction industry for their steel toed boots, so it makes sense for them to offer women an all-white safety shoe. This white leather ESD athletic shoe (around $100) is the perfection option for women who like a clean, polished, sneaker. What makes it so good is its larger toe cap area, giving you wiggle room, quite literally. The ESD is also available in wide sizing for those who like more room in their sneakers. These are also waterproof and they won't leave skid marks on any floors.
Knapp Allowance Sport Shoe
For the girly-girly, Knapp makes this pink and navy Allowance Sport Shoe, priced at about $70. This shoe is available in wide sizes, and it looks like any other tennis shoe on the market. Wear this sneaker with confidence since it's safe and resists oil slips. This option can also protect you from electrical hazards, and it also keeps your toes safe from up to 75 pounds of compression or impact.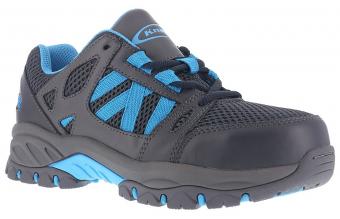 Men's Sleek Steel Toed Sneakers
The whole point of a steel toed tennis shoe is to give off the appearance of a regular gym type of shoe while still keeping your toes protected. You would never know that there's a steel toed component in these sleek styles:
Reebok Work Soyay
Reebok's Work Soyay tennis shoe definitely masks the fact that it has a steel toe but it meets high safety standards for impact and compression protection. This sneaker looks like a skater shoe, and its design was actually inspired by skateboarders. Available in either blue suede with white leather or all black suede and black leather, this shoe retails for roughly $90 and also comes in wide sizes. The Soyay also features all of the bells and whistles, so you can rest assured that you're comfortably protected from many elements.
Caterpillar Gain Steel Toed Shoe
The Gain Steel Toed Shoe by Caterpillar is one of the lightest of its kind on the market. Priced at about $100, this tennis shoe is also slip and electrical shock resistant. This shoe has serious comfort levels and each shoe only weighs 1lb, 1oz. Because this shoe is mainly mesh, your foot can really breathe and conform to the shoe, fitting like a glove. Need more room? This sneaker also comes in wide sizing. The Gain comes in three colors: all black, orange and gray, or blue and gray. If comfort is important to you, this is your shoe.
Stride by Dickies
Looking for an affordable steel toed sneaker? The Stride by Dickies has you covered. Comprised of black and electric blue mesh and leather, this steel toed tennis sneaker will only set you back about $55. This tennis shoe has plenty of five-star reviews and it does extremely well in slippery situations. You can also remove its memory foam insole. The Stride comes in an all black option and a black and yellow shoe as well.
KEEN Tucson
Keen is a big name in the performance footwear industry, and their Tucson low-rise steel toed athletic sneaker does not disappoint. This tennis shoe is fully waterproof, slip-resistant, and very comfortable according to its reviews. This steel toed shoe also has special technology that lets vapor out without letting water in, so your foot is always dry and comfortable. Mainly black and grey leather and mesh, this no-frills sneaker is priced at about $150. If your work is outdoorsy, this is your shoe.
Wearing Steel Toed Tennis Shoes
As a bonus, many times steel toed tennis shoes come with an anti-slip rubber outsole and comfortable insoles, to make them that much more enticing. Here are some instances in which you may want to wear steel toed tennis shoes:
When taking a hike, steel toed sneakers will help you protect you from tumbling rocks and unexpected snake bites.
Event planners should invest in these tennis shoes to prevent unnecessary accidents while running around.
A handyman or housekeeper may also want to wear these on the job for extra protection.
Auto mechanics will find this type of tennis shoe useful when working in the shop.
If you work on a ranch, it's a good idea to protect your toes from heavy items you could be carrying, as well as from having the farm animals step on your toes. Ouch!
Sometimes it is mandatory in the industrial and construction fields of work to wear a shoe with a steel toe. So why not choose a steel toed tennis sneaker that gives off a sense of style, yet still has you covered?
Stepping Out In Style
Made to look and feel like regular tennis shoes, yet containing a hidden protective toe shield, steel toed tennis sneakers are a must for many activities and work environments. If you are on the fence about choosing a tennis sneaker or a steel toed shoe, you don't have to sacrifice one or the other. Popular brands are catching on to the need for this type of shoe, to your benefit.